Kors named 2008 Galloway Award winner; Johnston, Maurer win first Crawley Award
Joshua Kors of The Nation magazine has been selected as the 2008 recipient of the prestigious Joseph Galloway Award. The award is given each year by Military Reporters & Editors to the story or series of stories independent judges consider "the best of the best" in reporting on military affairs and defense issues the previous year. The judges cited Kors' for his reporting that uncovered "a scandalous practice" by the Department of Veterans Affairs concerning diagnoses of soldiers wounded in Iraq and Afghanistan. His series of stories resulted in wider media coverage and eventually led to passage of a Senate bill to address the problem.
Kors will be given his award at the Military Reporters & Editors annual conference at the National Press Club in Washington, D.C., Nov. 14.
A new prize this year, the Jim Crawley Award for Regional Reporting, goes to April Johnston and Kevin Maurer of The Fayetteville Observe for their series of stories and multi-media presentation titled "The Last Full Measure." Judges praised the duo for capturing the essence of war and what it means to be a soldier "through imaginative and in-depth reporting back home." The award is named in honor of Jim Crawley, a founding member and former president of MRE who died earlier this year.
Complete List of 2008 Award Winners
PRINT
Category 1 Overseas Coverage – large newspapers/magazine: Kelly Kennedy, Military Times, "Blood Brothers"
Judge's Remark: The Army Times' "Blood Brothers" will stay with you. If you were fortunate enough to read it as it came out each week during December 2007 or if you check out the four parts, with accompanying videos and timelines, on the web, you will be thrown into the belly of an infantry batallion as its service in Iraq unfolds. The unrelenting trauma that soldiers experience as it carries over from mayhem on the streets of Baghdad to mutiny to grief back home is captured sensitively but searingly by reporter Kelly Kennedy and photographers James Lee and Rick Kozak. This is combat hell for one Charlie Company, as the series depicts, but it is a story they're prepared to tell, thanks to a reporter with an uncanny gift for crafting that story.
Category 2 Overseas Coverage – small newspapers/magazines: James Kitfield, National Journal, "The Thin Iraqi Line" and "Baghdad, Surged"
Judge's remark: These are two cover stories that every policymaker, pundit and political candidate should read before they seek refuge in stock rhetoric of surge, working or not working. James Kitfield's nuanced reporting is thoroughly documented with cautionary vignettes depicting an American presence in Iraq that is working valiantly to try to stem the avalanche of chaos, corruption, destruction and violence unleashed by the 2003 invasion.
Category 3 Domestic Coverage – large newspapers/magazines: Kristin Henderson, The Washington Post Magazine, "Us and Them"
Judge's Remark: This piece offers an incredibly detailed and intimate look at military life, but that is just the beginning of its impact. Its real power is its ability to show how the fact that most Americans have little or no understanding of the ways of the military and this chasm of understanding on both sides has far-reaching repercussions.
Honorable Mention: John Mulligan, Providence Journal, "Back from the Brink"
Judge's Remark: John Mulligan's elegant, spare prose is the underpinning for his riveting account of Cpl. Patrick Murray, wounded on patrol in Fallujah. Mulligan takes us with Murray from the day he joined the service to his deployment to Iraq, on streets patrols and into the roadside bombing that cost him his right leg. It was a story in the style of Ernie Pyle, making us feel like a member of Murray's unit. It was all the more compelling because Mulligan pieced the series together through interviews and extensive use of research materials.
Category 4 Domestic Coverage – small newspapers/magazines: Sydney Freedberg, Jr., National Journal, "The Other Three Thousand" and related stories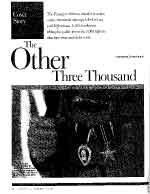 Judge's Remark: Syndey Freedberg's terrific, detailed reporting on the little known aspects of the awarding of medals shone a bright light on how medals are awarded, disparities among the services in who gets medals and highlights the Pentagon's shortcomings in telling the public about the fighters who have won medals for valor. A related piece offered a compelling look at another underreported aspect of war – how the aggressive acts that win battles can sometimes slide into acts that lead to war crimes, and how difficult it is to draw a line between the two.
Honorable Mention: David Simon, The Frederick News-Post, "Nine Lost Warriors"
Judge's Remark: A team of reporters, photographers and editors discovered that the remains of nine service members from Frederk County are unaccounted for. They then created compelling stories about each, often without being able to find family members and having to rely on military records and other documents. They also created an online map of where the men were last seen and videos of family members talking about the MIA soldiers. To accompany the pieces, they put together broader stories, using government databases, about the 88,000 unaccounted for American soldiers from as far back as WWII and about how the Defense Department works to locate and identify remains.
TELEVISION
Category 1 Network / Large Market: Chas Henry, NewsChannel 8/ABC7, "Insurgents in the Bloodstream"
Judge's Remark: This investigative series exposed existence of a deadly bacterium attacking patients in military hospitals, partially brought on by lack of infection control in front line hospitals in combat areas. The stories pointed out the inconsistent policy in dealing with what one former military doctor called the largest outbreak of its type in history. Station managers are to be commended for giving Chas Henry the time and resources to pursue this important story.
Category 2 Small Market: Charlie Whinham, Louisiana Public Broadcasting, Louisiana World War II Stories
Judge's Remark: This program profiles several World War II vets from Louisiana, giving the viewers an insider's look at their lives as young soldiers and now, as elderly men. The reporter did an excellent job weaving on-camera interviews, archival war film, and mementos, into poignant stories about the vets. A highlight of the program was the closing chapter when many World War II vets from Louisiana flew to Washington, DC for a day trip to see the World War II Memorial. The superb videography captured the sights and sounds of the experience giving the viewer a front row seat.
PHOTOGRAPHY
Category 1 Large newspapers/ wire services/ magazines: No winner
Category 2 Small newspapers/magazines: Drew Brown, Stars and Stripes
Judge's Remark: Drew Brown did an excellent job covering the Battle of Baquoba in Iraq. His poignant photos brought home the reality of war from combat scenes involving U.S. forces to Iraqi children mugging to the camera. His tight shots made the photos jump off the page. The photos were compelling.
ONLINE
Lara Solt, Dallas Morning News, "Among the Wounded"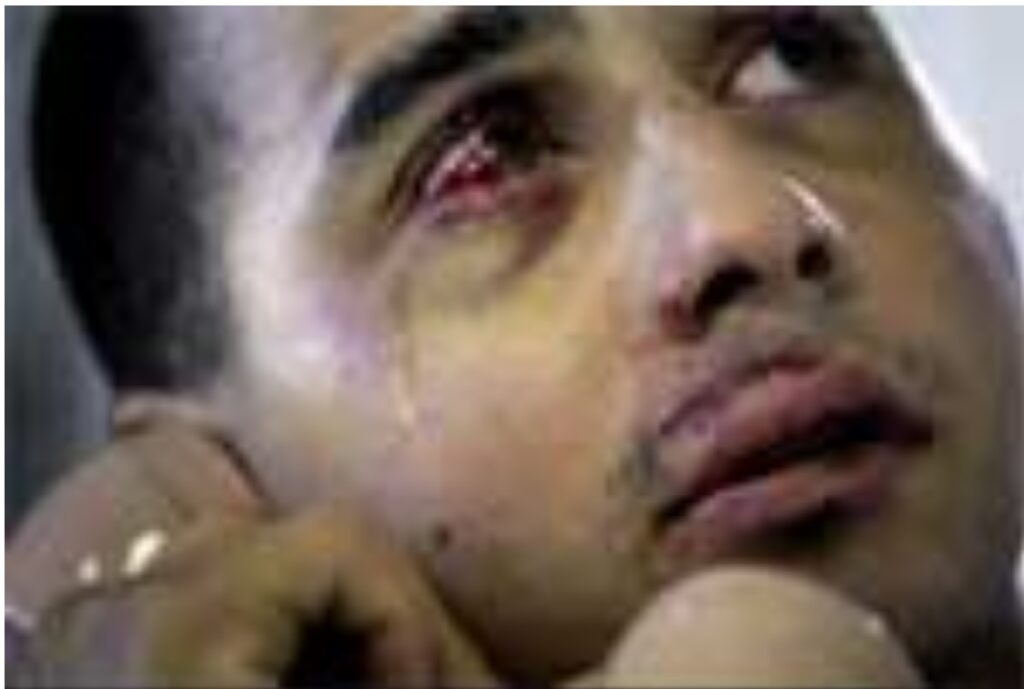 Judge's Remark: In a compelling multi-media story, we get to know one Marine injured in Iraq and his courageous battle for recovery as an amputee. The story used video and photo slideshows to give us an intimate look at this man's life. The photos were gripping.The online presentation was an excellent companion to the print article published in the newspaper.
The Galloway Winner
Joshua Kors, The Nation, "Thanks for Nothing"
Judge's Remark: Joshua Kors uncovered a scandalous practice of the Department of Veterans Affairs – diagnosing soldiers wounded in Iraq and Afghanistan as having a personality disorder, which then prevents them from receiving VA benefits. His report, which is told through the eyes of one soldier – Jon Town, struggling with deafness, memory failure and depression while the VA denies help – outlines a six-month investigation into this practice and presents the devastating results in a gripping story. His story led to other media stories expanding on the problem and, finally, a Senate bill that would halt discharges of troops for personality disorder diagnoses.
The James Crawley Award Winner
April Johnston and Kevin Maurer, The Fayetteville Observer, "The Last Full Measure"
Judge's Remark: These reporters put together a detailed, engrossing and important account and presented it in a series of compellingly written stories combined with visually appealing photos and graphics and a rich multimedia presentation. Their story of the last hours of a unit is told in chapters interspersed with the personal narratives of each of those who died, how they came to be there and why service to country mattered to them. Readers can feel the shock of the explosions, hear the screams and see the mangled bodies. It is a great example of how regional reporters, without being at the battlefront, can explain the nature of war and soldiering through imaginative and in-depth reporting back home.