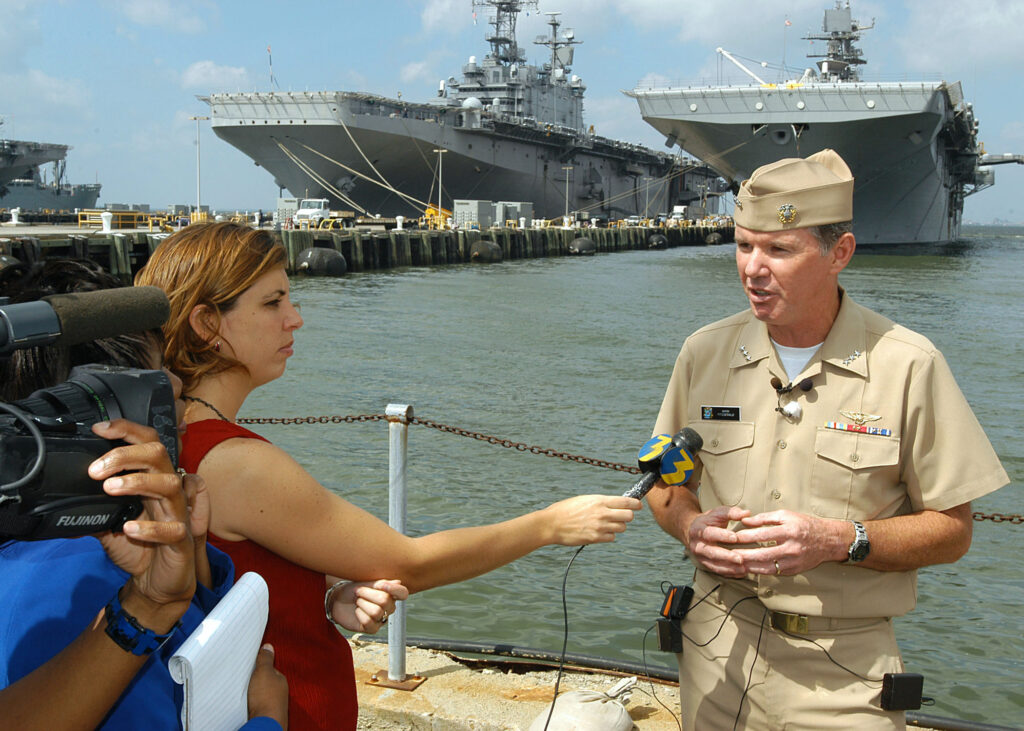 WASHINGTON, April 6, 2020–Military Reporters & Editors addressed comments made earlier today by Acting Navy Secretary Thomas Modly aboard the USS Theodore Roosevelt in Guam.
Modly, in remarks on the ship's PA system, sought to explain his decision last week to relieve Capt. Brett Crozier, the carrier's commanding officer, of his command.
Modly's action against Crozier came after the captain had written about the novel coronavirus threatening the crew's health in a memo that was disclosed in the press.
During his remarks to the crew, an audio of which has been obtained by multiple news organizations, Modly criticized what he broadly dubbed "the media" as a threat to the Navy.
"There is no–no–situation where you go to the media, because the media has an agenda," Modly said. "The agenda they have depends on which side of the political aisle they sit."
"They use it to divide us and use it to embarrass the Navy," Modly added.
John M. Donnelly, president of Military Reporters & Editors, responded as follows:
"Modly is right to some extent. Some news organizations are ideological, and all of us are to some degree susceptible to sensationalizing.
Even so, the overwhelming majority of journalists, especially those of us who cover the Defense Department, are interested only in telling the truth to the best of our ability. Many in the press corps have risked their lives on the front lines. Many reporters are themselves veterans.
What we report often helps the U.S. military learn what is happening in its own ranks. We help Congress oversee the Defense Department effectively. At our best, we help ensure weapons work, military families are taken care of and wars are not fought unnecessarily. We show acts of valor and the sacrifices of service members and their families. We reveal, too, when trusted leaders lie.
When the truth wins out, missions are more likely to end successfully and troops are more likely to come home alive.
We are certainly not interested in 'dividing' or 'embarrassing' the U.S. military.
More fundamentally, Secretary Modly's comments show a breathtaking disregard for and misunderstanding of the role of the press in a democracy–or just a disdain for coverage that does not make him look good–or all of the above.
His remarks are antithetical to the Constitution's First Amendment, which protects press freedom–and implicitly values the media's role–because the founders knew the press's importance in helping us govern ourselves.
It is profoundly discouraging that the Navy's top civilian leader–charged with defending our country–would not only hold beliefs that undercut the First Amendment but also would try to convince several thousand sailors to also hold that belief. U.S. military personnel should never be told to not speak to the press.
Modly was right that reporters have an 'agenda,' but he was dead wrong about what it is. Our agenda is simply to reveal the facts as best we can. Any reporter who does not believe that–and do that–is not worthy of the title. Thankfully, most reporters are worthy of the title, and their function in our country is worthy of respect from the senior leaders of our military."
The Military Reporters & Editors association, based in Washington, D.C., represents several hundred American journalists and other communications professionals who specialize in national security.