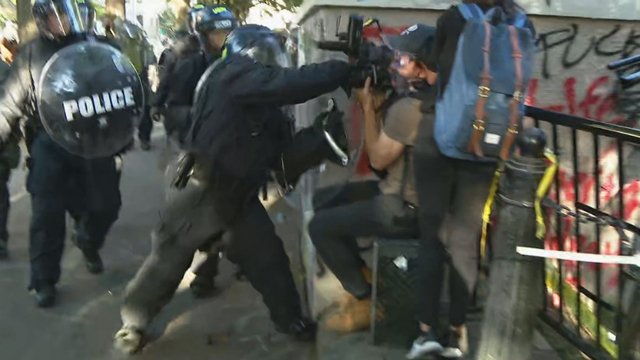 WASHINGTON, June 5, 2020–The Military Reporters & Editors association joined with 13 other press groups Friday in an open letter to U.S. governors and mayors urging accountability for law enforcement personnel who have attacked reporters as they have sought to cover recent protests against police brutality.
U.S. Press Freedom Tracker, which monitors attacks on the media, has documented 160 police attacks on reporters during the recent protests. In these cases, police used clubs, tear gas, pepper spray, or projectiles such as rubber bullets.
The open letter from the Military Reporters and Editors association (MRE) and other groups urges state and local authorities to conduct investigations into such allegations of police brutality against the press.
"The #GeorgeFloyd protesters are speaking out in largely peaceful fashion about police brutality against African Americans," said MRE President John M. Donnelly. "It is bitterly ironic that too many law enforcement personnel at those protests are now adding new abuses to the toll, including by attacking the press. In every assault on a reporter we have seen, the reporter was making his identity as a journalist abundantly clear to the attacking police. The police should heed the fact that the First Amendment protects both protesters' right to protest and reporters' right to report."
The Military Reporters and Editors association, based in Washington, D.C., is a membership organization representing journalists and other professionals who specialize in national security. MRE's mission is partly to advocate for the rights of the press, in addition to fostering networking among media professionals and educating them and the public about the U.S. military.
Contact: MRE President John M. Donnelly: jdonnelly@cq.com.