The Military Reporters & Editors Association mourns the loss of Fox News cameraman Pierre Zakrzewski, who was killed in Ukraine after his vehicle was hit by incoming fire. Fox News correspondent Benjamin Hall was also injured in the incident.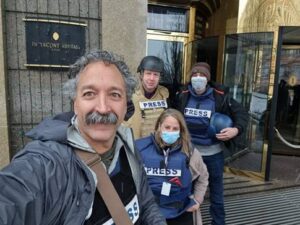 Zakrzewski was a brave soul, who reported from war zones around the world and also played a major role in getting Fox News' Afghan freelancers and their families to safety after Afghanistan fell to the Taliban last year. For his valiant efforts, he was awarded an "Unsung Hero" award by his network.
A Ukrainian journalist, Oleksandra Kuvshynova, was also killed in the incident, according to media reports.
Their deaths come shortly after journalist and filmmaker, Brent Renaud, was also killed while covering the war in Ukraine. We once again call for the protection of journalists in Ukraine to be able to do their important work without fear of violence or intimidation.
The world is a lesser place without these champions for the truth.